Books
A Poet with Prior Convictions
Front cover of A POET WITH PRIOR CONVICTIONS,
Art Judd came to Santa Fe, New Mexico, up from Cloudcroft, with his family in the early 1970s. He owned and ran a commercial security systems company for a number of years. Art had many interests including ski instructing, hiking and gathering mushrooms from the mountains. He gave guided hikes for the Sierra Club and taught wilderness survival and mushroom identification at the Santa Fe Community College for a number of years, taking his students up into the mountains. For a number of years Art was a wine merchant, selling fine wines to lounges, bars and restaurants in Northern New Mexico.
During these years Art wrote poems, copying them in two small books. Some of his poems were free verse while others were haiku, the unrhymed verse form of Japanese origin having three lines containing usually 5, 7 and 5 syllables respectively and also a poem in this form usually having a seasonal reference. Art's poems covered many events surrounding his life, things he observed in nature and many poems which could be classified as love poems to the women in his life. Art belongs to the local Santa Fe poets' organizations where he recited many of his poems. His poems were also printed in local and national magazines.
There is much humor in Art's poems as they express the nature of man and his love for nature and dogs. Many of his friends, often departed, are honored and remembered in his poems.
This small, 106-page book is divided into two sections, one for each of Art's small books. Included are four pages of color photos depicting Art's life. Art has two loving and caring daughters and numerous friends in and around Santa Fe. I hope editing and printing Art's book of poetry will introduce Art and his poetry to many people.
Self-published by James J. McBride, 2016
Cost: $20 includes shipping and handling
Timing Was Everything, Autobiography
Front cover of TIMING WAS EVERYTHING, Autobiography
TIMING WAS EVERYTHING is the autobiography of Cdr. James J. McBride, US Navy, 25 years active duty from 1960 through 1985. It follows his commissioning at the Officers Candidate School, through flight training to receiving his wings in 1962. His first squadron was VR-22 flying C-118 four-engine propeller aircraft. Next it was the two engine E1B "Willy Fudd" early warning aircraft and first combat cruise in 1965 on board the USS Independence. Next, three year tour as a flight instructor in Pensacola, Florida, T-34B basic trainer to T-2B jets. He received the 1968 David S. Ingalls Award for being the best flight instructor in the Basic Training Command. In 1970 he made his second combat cruise with VA-12 on board the USS Shangri-la flying A4C Skyhawk attack aircraft. 1971-1972 saw the Mediterranean cruise on board the USS Independence flying A7E Corsair II aircraft. Two years at NAVPRO Dallas as Production Test Pilot saw Lcdr. McBride log A7E Navy and A7D Air Force aircraft time. Moving to the West Coast and NAS Lemoore, California, he joined VA-192 flying the A7E for his forth cruise on board the USS Kitty Hawk. Soon after making Command he was assigned at Strike Operations Officer on board the USS Enterprise, completing his fifth and six carrier deployment. Shore duty to Naval Weapons Facility, KAFB, Albuquerque, New Mexico, included an interesting aspect to his flying, as team leader, the Navy hot air balloon 1979-1982. Finally, staff duty, but very rewarding as Nuclear Plans and Policy officer at CINCUSNAVEUR, London, UK. Cdr. McBride accumulated 4,662 flight hours, 518 arrested landings, accident free.
Self-published book by Cdr. James J. McBride, USN (ret) 2015
Cost: $25 includes shipping and handling

Henri's Story, Memoirs of a Survivor
Front cover of the HENRI's STORY, Memoirs of a Survivor
Henri's Story, Memoirs of a Survivor, is the autobiography of a strong New England woman who challenged herself in many ways to live with polio and raise of family of six children. Henriette Lajoie shows us her life as one of twelve children and gives us a good picture of this prominent Fall River family. Her father, J. Edward Lajoie, was a distinguished lawyer, district attorney and judge. We meet the noted Trapp Family singers and Maria von Trapp, who would become Henri's mother-in-law when she married Rupert vonTrapp. The wedding of Rupert and Henri on September 17, 1947, in St. Ann's Catholic Church in Fall RIver, drew more than 3,000 people. The heart of Henri's story is her battling polio, the dreaded disease, which struck Henri as she started her family. The young mother was confined to an iron lung for almost a year and transferred to several polio hospitals. The soul of the story is how Henri was determined not to allow being bound in a wheelchair for life stop her from becoming a caring mother and good wife. She showed courage to learn to drive with her handicap and was rewarded with new freedoms. There is sadness in her story as Henri survived a divorce and attempted annulment. Throughout her years of trials and disappointments, Henri pressed on to enjoy life to the fullest.
This self-published book by James J. McBride, 2009, has 160 pages and over 127 photos.
Cost: $25 includes shipping and handling.
Children of Fort Stanton, second edition
Front cover of the Photo Essay Memoirs of the Children of Fort Stanton, second edition
The Children of Fort Stanton, second edition, is a collection of memories of thirty seven children who grew up at the Public Health Service tuberculosis hospital for merchant seamen in isolated Lincoln County, New Mexico. The time covered in these recollections is from the 1920s to 1953, when the hospital was turned over to the State of New Mexico. Each of the individual stories tells of their personal experiences and quite often gives insight into the many facets of Fort Stanton life. Quite often a different way of telling some experience or event while growing up at the hospital gives us special insights and new perspectives on life there. There may be some secrets revealed by playmates which will amuse the others and readers in general as the stories are read. Two of the children deserve credit for collecting these stories and providing the majority of the photos. Danna Kusianovich Henderson and Claire Boyd Fluharty have been the driving force for this book. The reader must remember many of the children are looking back as far as seventy years ago so there will be inconsistencies in many of the stories.
This self-published book by James J. McBride, 2009, has 212 pages and over 348 photos.
Cost: $20 includes shipping and handling.
A Photo Essay History FORT STANTON MARINE HOSPITAL, Public Health Service 1899-1953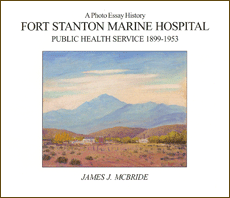 Front cover art of A Photo Essay History
Fort Stanton Marine Hospital, Public Health
Service, 1941-1945
Fort Stanton Marine Hospital, established at the old military post in Lincoln Country, New Mexico, 1899, was the first Public Health Service sanatorium devoted to merchant marine seamen suffering from tuberculosis. With the advent of new drugs to control this dreadful disease and the federal reorganization of national health programs, the hospital was closed and transferred to the State of New Mexico in 1953. During its 54 years, Fort Stanton Hospital was a well organized and lively community for the medical staff and employees, their families and the patients. For Lincoln County, the sanatorium was an economic boom.
This self-published book by James J. McBride, 2005, has 159 pages and over 260 photos.
Copyright 2005 ISBN 0-9774392-4-0
Cost: $25 includes shipping and handling
INTERNED; Internment of the SS Columbus Crew at Fort Stanton, New Mexico, 1941-1945
In March 1941, 410 German seamen from the scuttled luxury liner, the SS Columbus, surveyed the bleak, barren and cold landscape of Fort Stanton, New Mexico. They wondered if their 15-month odyssey of detention was over or starting a new phase. They traveled across the country from Ellis Island in New York Harbor to Angel Island in San Francisco Bay in search of a ship to take them home. Unsuccessful in this venture, the US government wanted to move the Germans to a remote, isolated location. An abandoned CCC camp in Lincoln County, New Mexico, fit the bill perfectly. The Border Patrol reluctantly accepted the charge of the 410 distressed seamen. The US Public Health Service Marine Hospital, for merchant marine sailors with tuberculosis, was located across the Rio Bonito River from the camp and was the closest thing to civilization.
Front cover art of Interned; Internment of the
SS Columbus Crew at Fort Stanton,
New Mexico, 1941-1945
The stranded German seamen were not discouraged for long. Captain Daehne, their skipper, used his crews' energy, ambition and obedience to make the first American internment camp a showcase of German pride and accomplishment. Maritime trades were quickly adapted to the high desert to build and beautify the camp. The ship's barbers, tailors and maintenance teams set up trade shops while the Columbus cooks and stewards organized the kitchen and mess hall to serve the hard working men. Sports fields for tennis and soccer were laid out. A large swimming pool was built in two months by scores of volunteer seamen. In July the men celebrated their efforts with a four-day event, the Fort Stanton Olympics.
America's neutrality and the sailors' status as guests of the government gave the men the freedom to hike the hills around the camp, visit the nearby village of Capitan, operate a driving training course and construct private huts along the river and within the camp December 7, 1941, changed all this. With the United States at war with Germany, the Columbus seamen became alien enemies.
By March 1942, a high fence with guard towers and lights enclosed the camp. The next three years witnessed the transfer of other German merchant seamen into the camp and parole of some Columbus internees. The camp grew in population and new buildings were constructed. In the summer of 1945, with the defeat of Germany, the internees finally went home. Photographs from many sources tell this remarkable story of these 410 interned German sailors.
Copyright 2003 ISBN 0-9774392-2 Cost: $25 includes shipping and handling
Shang Log 1970 WestPac (Vietnam) Cruise - USS Shangri-La
Front cover art Shang Log
1970 WestPac (Vietnam) Cruise
USS Shangri-La
SHANG LOG is the story of the Clincher pilots of Attack Squadron 12 who made the last cruise of the USS Shangri-La (CVS-38) to WestPac and the Vietnam War in 1970. During the six line periods on Yankee Station, the attack pilots found the weather with monsoon rains and the aircraft availability problems worse enemies than the antiaircraft gunners protecting the supply routes they went to bomb in Laos and Vietnam. Lcdr J. J. McBride, USN, (Retired), built this autobiographic memoir from his daily diary or log entries. He Included in his research for the book were interviews with fellow squadron pilots and official records, orders and award citations. The 464 page, self-published book has 159 photos.
Copyright 1999 ISBN 0-9774392-2-4
Cost: $25 includes shipping and handling